For many people, the show season goes from June to December, so for several months jewelry gets packed away and brought out only occasionally. During this time, and during the height of summer when humidity is a killer, keeping silver from tarnishing becomes a major concern.
The first really important thing about keeping your jewelry from tarnishing is to keep it clean. If you put it away tarnished, the layer of tarnish will continue to deepen when stored.
Many people will tell you that they keep their jewelry in ziplock bags. While that does reduce the humidity, it won't actually prevent tarnish and it can scratch your jewelry unless you use the specifically designed anti-tarnish zipper bags. Before putting the jewelry into the ziplock bag, wrap it in either anti-tarnish tissue or anti-tarnish cloth.
Although you can get anti-tarnish tissue from jewelry supply shops, I get mine from a place that makes it for use with silverware. Generally speaking, it's cheaper that way. Here's one such supplier: Kassoy. I also wrap my pieces in that tissue for sale and make sure to explain to my customers to keep the tissue for that reason.
The most popular brand of anti-tarnish cloth is Pacific Silvercloth. You can buy this in bag form, but it's far cheaper in a roll and if you have any sewing skills you can make your own bags and jewelry rolls. The bags made for jewelry can be very lovely and are great if you are giving the jewelry as a gift.
For extra protection against tarnish in the bags, you can use 3M anti-tarnish strips, which you can get from Rio Grande. The problem with these is that you don't have any way of knowing when they cease to be effective, and they are expensive for a product with that lack of indicator.
Another really good thing to use, especially if you store your silver in large cases like the jewelry cases, either in place of or in addition to the anti-tarnish strips, is Hydrosorbent Silica Gel.


Cabelas, my favorite sporting goods store for those fabulous fly-fishing boxes for storing beads, sells this in boxes suitable for protecting 3 cubic feet of space, which is just about perfect for the standard grey jewelry carrying cases. The stuff is lightweight (so you can just leave it in there even when you carry the cases around) and reusable. When it fills with moisture, you just stick it in the oven and dry it out.
Nowadays, they are also making a variety of jewelry boxes lined with silvercloth. These are good, but I would say that you should find a way to stick some silica gel into them, even if it's just the disposable packets like these: Adorama Silica Gel Packets. (Again, you'll notice I have listed a camera shop rather than a jewelry supply shop because I have found electronics supply places to be generally cheaper.)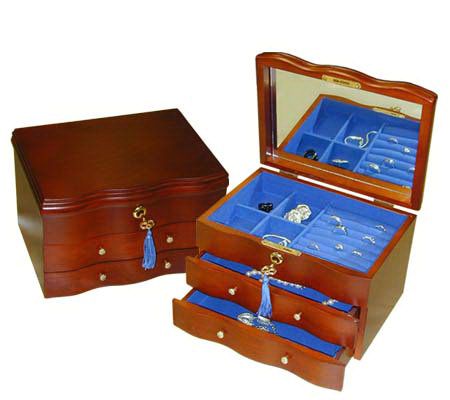 For jewelry boxes lined with silvercloth, I have found the greatest variety -- oddly -- at QVC. Most of these are not practical for professional jewelry-makers, but this one has a nifty earring storage system that works for displaying as well as storing. Again, however, I would use dessicant inside instead of just relying on the built-in cloth.
So there you have it -- all the ways I know of to prevent your silver from tarnishing. I hope you find it useful!